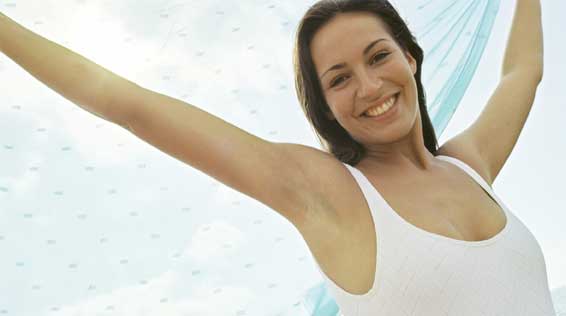 Lasers make it possible to perform high-precision, needle-free and often painless procedures to remove unwanted hair, wrinkles, scars, stretch marks, vascular lesions (for example birthmarks, moles, spider and varicose veins) and sun spots. Below is an overview of the laser procedures we offer to give you healthier, younger-looking skin.
Laser Hair Removal
Now men and women are making unwanted facial and body hair a thing of the past, thanks to CoolGlide® laser systems. No more painful waxing, electrolysis or razors! CoolGlide laser systems deliver 21st century technology for treatment of this distressing problem. Cleared for permanent hair reduction, CoolGlide lasers can treat men and women of all skin tones safely and effectively. Even patients with a suntan.
Laser Vein Therapy/Removal
Now men and women alike are making unsightly facial and leg veins a thing of the past, thanks to CoolGlide® Laser Systems. No more painful injections! With the most advanced technology, a unique design, and a longer wavelength, CoolGlide laser systems can safely and effectively treat both tiny superficial face veins and deeper blue leg veins on men and women of all skin tones.
Offered by Dr. Amy Krachman at Dermalogic Laser Center
Laser Genesis/Rejuvenation
Laser Genesis Skin Therapy is an innovative, technologically advanced way to promote vibrant and healthy looking skin in men and women. Now you can have a youthful appearance by treating those conditions that are typically associated with premature signs of aging and sun damage, such as excessive redness, large pores, uneven texture, and fine line wrinkles.
Offered by Dr. Amy Krachman at Dermalogic Laser Center
3D Rejuvenation
Exclusively from Cutera — All patients present with different needs. Imperfections at the surface, deeper in the epidermis or at the deep dermis are common. Unfortunately, as we grow older, our imperfections turn into multi-layered problems – solar lentigines, poikiloderma, vascularity, rosacea and wrinkles, to name a few.
Titan XL
The new Titan gives you an all natural option to actively turn back the clock on aging skin. Using light energy to stimulate new collagen growth deep beneath your skin's surface, Titan can tighten skin on your face, arms, abdomen, and legs. It's an ideal solution to enhance your youthful and healthy appearance without surgery, recovery time, or injections.
IPL -­ Fotofacial
Fotofacial is an innovative way to quickly, safely and comfortably remove sun and age spots from your face, chest, arms, and hands, without gel or anesthetic cream. The signs of sun damage will flake off after one or two treatments, leaving clear, younger looking skin.
Laser Acne Treatments
Acne affects many teenagers but is not limited to this age group as many adults also suffer from this condition. There are multiple solutions to treat acne depending on the severity of the condition. Our acne treatments work by reducing oil production and speeding up the growth of new skin cells, removing dead skin cells and fighting bacterial infection.
Trusculpt
TruSculpt is the latest and most effective procedure for non-invasive fat reduction and body sculpting/contouring. The Cutera truSculpt™ uses a proprietary radio frequency (RF) technology that allows uniform heating of the subcutaneous fat layer at sustained therapeutic temperatures. The fat cells are destroyed during this process and then broken down/disposed of by the body over up to three months. The truSculpt results are subtle and ideal to remove those small amounts of fat that stubbornly remain despite a good diet and regular exercise. The truSculpt system is also used for the temporary reduction of the appearance of cellulite.
Laser Scar Therapy
Scar Therapy is medically proven to help reduce the appearance, size, height, thickness, and color of scars for all skin types. Scar therapy works well on both new and old scars regardless of the age of the scar, and can be used on all types of post-surgery scars, hypertrophic and keloid scars. This treatment flattens, softens, and smoothes all scar types. We offer Dermapen, Laser Genesis and/or Filler to treat scars, dependent upon patient's needs.
Pearl Fractional
Pearl Fractional is a new, volumizing, fractional laser perfected for treating photo-damaged skin in just one treatment. Pearl Fractional offers the best combination of patient experience and recovery time. Patients see improvements in brown spots, sun damage, tone and texture and have noticeably smoother, brighter complexion.
The Vivace™
Let's face it: we want to look our best at any age – not over-filled and over-stretched, just natural— aging gracefully, beautifully and elegantly. Inevitably fine lines and wrinkles set in, and now there is a simple, minimally-invasive treatment that will address those concerns — and have you out to dinner that same night!
Subnovii™ Plasma Pen
Dermalogic's Subnovii Plasma Pen is the most advanced, non-invasive, skin lifting, skin tightening, and rejuvenation method used to treat wrinkles, sagging, dull and uneven skin tone. The Plasma Pen is the latest device used to perform fibroblast therapy; a technique used to stimulate the production of collagen in the skin.