Want everyone questioning why your skin looks fantastic without putting your professional or social life on hold?  Dermalogic has a NEW treatment for YOU.
Introducing BioRepeel: The Next Generation of Skin Rejuvenation
In the ever-evolving world of skincare, staying ahead of the curve is essential to achieving radiant and youthful skin. Thankfully, advancements in dermatological technology continue to surprise us, and the latest breakthrough comes in the form of BioRepeel – a revolutionary treatment that's set to transform the way we approach skin rejuvenation.
What is BioRepeel?
BioRepeel isn't just another skincare treatment; it's a game-changer. Imagine a non-invasive procedure that combines the power of science and nature to unveil your skin's true potential. This innovative treatment offers a safer and more effective alternative to traditional chemical peels, with added benefits that go beyond just exfoliation.
The Science Behind BioRepeel
At the heart of BioRePeel is a carefully crafted blend of 14 bioactive compounds extracted from organic source that support healthier skin. These compounds work synergistically to deliver remarkable results, catering to a wide range of skincare concerns. From uneven skin tone and fine lines to dullness and acne scars, BioRePeel addresses it all.
BioREPeel is a 35% TCA peel. Unlike similar TCA Peels, BioRePeel has NO downtime or discomfort. BioRePeel's approach is gentler, yet equally powerful. Its unique formulation promotes controlled exfoliation, shedding the outermost layer of dead skin cells and revealing fresh, rejuvenated skin beneath.
The Benefits You Can Expect
Gentle Exfoliation: BioRepeel gently lifts away dead skin cells, unclogging pores and promoting a smoother skin texture. Unlike traditional peels, it achieves this without causing excessive redness or irritation.
Brightened Complexion: The bioactive compounds in BioRepeel help to reduce the appearance of dark spots and uneven pigmentation, giving your skin a more balanced and radiant glow.
Reduced Fine Lines and Wrinkles: With consistent treatments, BioRepeel can stimulate collagen production, leading to firmer and more youthful-looking skin. Fine lines and wrinkles are visibly diminished over time.
Acne Scar Improvement: For those dealing with the aftermath of acne, BioRepeel offers hope. Its exfoliating action helps to reduce the appearance of acne scars, promoting a smoother canvas.
Minimal Downtime: One of the standout features of BioRepeel is that it requires little to no downtime. Unlike traditional peels that can leave your skin red and sensitive for days, BioRepeel lets you get back to your routine almost immediately.
Suitable for All Skin Types: Whether you have sensitive, dry, oily, or combination skin, BioRepeel is designed to be inclusive. Its formulation is adaptable and can be tailored to suit your specific skin needs.
The BioRepeel Experience
Undergoing a BioRepeel treatment is a pampering experience in itself. The procedure, performed by Amanda involves a series of gentle yet invigorating steps that leave you feeling refreshed and rejuvenated. Patients often report a tingling sensation during the treatment, which is a sign that the bioactive compounds are at work, transforming your skin from within.
Is BioRepeel Right for You?
If you're seeking a non-invasive solution to skin concerns like uneven texture, pigmentation irregularities, or the early signs of aging, BioRepeel could be the answer. It's a versatile treatment that offers significant results without the need for extended downtime.
YOUR GOING TOT LOVE IT!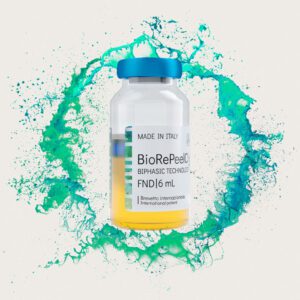 BioRepeel represents a new era in skincare treatments, blending the best of nature and science to unveil your skin's natural beauty. With its remarkable ability to address a variety of concerns and its gentle approach, it's a treatment that holds promise for individuals of all ages and skin types. Consult with us to see if BioRepeel is the right choice for you, and embark on a journey towards a revitalized and radiant complexion.
What results can I expect?
After the first few days, you may feel dry, a little red, and flaky. Though your skin may be a bit sensitive, this will subside in a week. Newer and healthier skin will emerge in the coming weeks.
Does it hurt?
No, this peel is pain-free and quite fast.  You may feel a bit of heat and tingling, though.
Why are you saying it is a year-round peel?
Now you can still peel in the Summer! Yes, Because with most peels, you must absolutely avoid the sun. With BioRePeel Cl3, You may be outside and resume normal activities with regular sunscreen application. Therefore this peel may be used year-round. Some call it the "New Summer Peel".
What Treatments can I do at the same time?
This peel turbo- enhances the results of derma plane and Microneedling. It can also be paired with facials. EXO | E stem cells can only be added with microneedling and will give you the radiance you wish for.
Who should not do this peel?
Please stop all Retinol products 7-10 days before. No Accutane.
How often should I get a BioRePeel Cl3?
Start with a series of 4- 6 every 7-14 days and see where you feel you need more or are happy with your results.
Dr. Amy Krachman, Dermalogic Laser Center in Hammonton, NJ
(609) 5610033