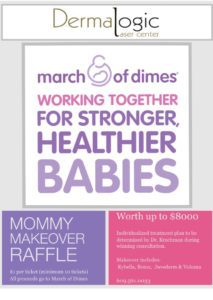 I will be walking this Sunday to help the March of Dimes which is a non profit organization to help mothers and babies.  Without the research that they funded, my son Leo would not be with us today.  Leo was born 12 weeks early, weighing only 2 pounds.  Now he is a silly 8 year old boy who is the love of our life.  Please make a donation at link below.  Or buy a few raffle tickets to enter to win the makeover of your dreams.
All proceeds go to the March of Dimes.   Raffle winner will be chosen by Leo on Mothers Day.
Thank you in advance for your generosity.
Amy Krachman, DO
https://www.marchforbabies.org/Fundraising/Personal?personId=6480451&participantId=8085974&user=dermalogiclasercenter