AquaGold Fine Touch Facial Therapy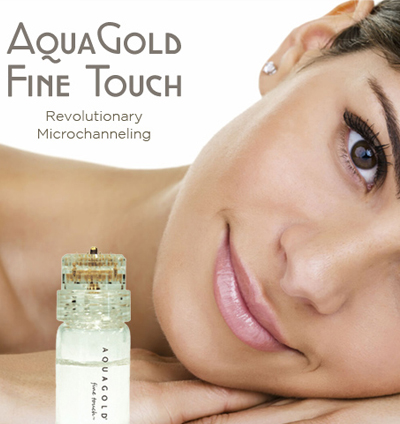 Your face reflects your unique character and charm – it deserves the highest quality, lowest risk treatment available. Dr. Krachman has spent years researching to discover that treatment, which she is proud to offer you with full confidence.
Aquagold Fine Touch is a revolutionary facial technology engineered to treat all skin types and most skin conditions – without surgery. There's a reason celebrities across the globe are calling it "The Super Facial". Unlike older treatments, this 24-carat gold micro-infusion system delivers customized blends of nutrients to your damaged or scarred skin.
At Dermalogic Laser Center we want you to fall in love with your face again – no matter what your age or skin type. We want to reduce or resolve your fine lines, wrinkles, volume loss, stubborn redness, excess oil production and acne scars. We want to give you the gift of naturally brilliant, healthy, sexy skin. Dr. Krachman is prepared to schedule your consultation and discuss your skincare goals. Just call Dr. Krachman's team in Hammonton, NJ at
609.561.0033
and prepare to recapture your youthful radiance.
What is Aquagold Fine Touch?
Aquagold is a cosmetic procedure that can deliver a variety of minerals, vitamins and proteins to the mesodermal layer of your skin via tiny micro-infusions. This advanced micro-infusion technology stimulates collagen production to enhance your skin's elasticity.
Instead of requiring multiple procedures, AquaGold delivers one vial of customized nutrients to resolve your unique skin issues. Attached to the vial is a series of 20 needles that are:
thinner than a human hair: for safety and comfort
coated with 24-carat gold: decreasing the chance of irritation or allergic reaction
hollow: to gently transport the vial's contents into your skin with maximum efficacy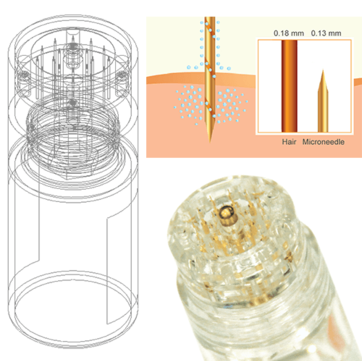 Aquagold delivers thousands of microinjections per minute without pain, bleeding or downtime. It can resolve crow's feet, forehead wrinkles and smile lines. Botox can be added to the vial for extra lift, without affecting muscles.
Dr. Krachman will work gently and efficiently to:
address wrinkles, frown lines, discoloration, sun damage, and other texture issues
reduce or remove skin redness and even out skin tone
minimize or totally eliminate acne scarring
shrink pore size for soft, supple silky-smooth radiance with micro-Botox
smooth skin with dermal micro-hyaluronic gel such as Restylane silk
brighten skin with micro-pigment reducers
After a few days, you can combine Aquagold with other skin procedures like dermal fillers or laser treatments. Aquagold is one of today's safest skin rejuvenating skin therapies for clients who don't want to endure the risk and long recovery time of surgery.
Aquagold Delivery
Aquagold is a fast, simple, low-stress procedure that you can get during your lunch break or as part of your daily routine, without draining your bank account.
First, you'll have a consultation with Dr. Krachman to discuss your medical history, any current conditions or medications you're taking, and your skincare goals.
On the day of your treatment, we'll make sure you're comfortable. Though Aquagold typically causes no pain, you can request a local anesthetic if you feel any discomfort.
When you're ready, Dr. Krachman will fill a micro-infuser vial with your customized microneedling serum, then gently press it onto your skin, delivering nutrients just below your skin's surface while stimulating collagen and elastin growth.
You may feel a slight tingling or stinging sensation which patients have told us resembles a bug bite itch. It's actually a sign that your skin is absorbing the infusions. Your treatment may last between 15-30 minutes, depending on your specific condition.
Then, you can relax. No microneedling downtime, just slight redness lasering 10-30 minutes. Your skin will have an immediate glow! Just return to your daily routine with your new radiant, refreshed, rejuvenated skin.
What results can I expect?
Immediately after your treatment, you'll start noticing its early effects. Your skin may be more volumized, your lines and wrinkles may be eliminated or reduced, your pores may look smaller and your acne, less unsightly.
You may slowly resolve your crow's feet – meaning those tiny but deep wrinkles around the corners of your eyes will smooth out and appear shallower. Your laughs lines will become less pronounced. No more wondering how to get rid of deep forehead wrinkles either— those will have a less harsh appearance. If you get microneedling for acne, you may see all the bumps, indentations and redness gradually resolving.
Over the next 3-7 days, your skin will respond fully to your treatment and reveal your face's original smooth, sculpted shape.
Your results will last about 3-4 months, so for fresh, continuous improvement we recommend one Aquagold procedure every 3 months.
As with any medical procedure, results of these treatments will vary from patient to patient, depending on age, genetics, severity of patient's condition, and other health factors.
​Solutions used with the Aquagold fine Touch system include:
Restylane or Juvederm – Hyaluranic Fillers
Botox, Xeomin or Dysport – Neurotoxins
Growth Factors for cellular renewal
Pigment Regulators and reducers
Vitamins and nutrients to enhance glow and antiaging
Acids to treat and heal acne
Request Your Appointment
Why not look at young as you feel and start your ultimate skin workout. Aquagold skincare technology is the anti-aging solution you've been seeking to revive that lush, radiant skin you were born with.
We're here to help you reclaim your confidence as a whole person – and that requires meticulous attention to your unique subtleties. When we see you beaming with joy and self-confidence again, we know we've succeeded.
To take the first step toward a more radiant you, call Dr. Krachman at 609.561.0033