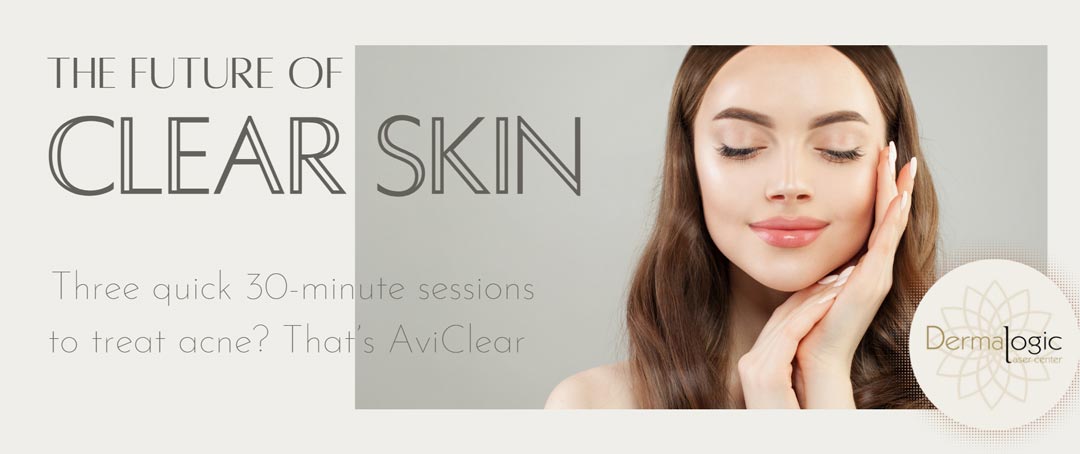 AviClear is the first and only FDA- cleared energy device for the treatment of mild to severe acne. AviClear treats acne at the source by selectively targeting and suppressing the sebaceous gland safely and effectively. Clinical trials have proven acne clearance results continue to improve over time, demonstrating the long-term efficacy of this treatment. AviClear is safe and effective for all skin tones, making it a great option for a variety of people with acne-prone skin. Clinical trials demonstrate that current and future breakout episodes are shorter, less intense, and more infrequent following the AviClear procedure. AviClear works on all types of acne, especially stubborn acne–including cystic, inflammatory, and hormonal acne!
Aviclear uses the power of laser to selectively target and suppress sebaceous glands, eliminating acne at the source without the need for prescription medications.
To understand how AviClear works, it is important to understand how breakouts happen. Acne forms when sebum, the oily substance on your skin, combines with dead skin cells to clog your pores. Bacteria gets trapped in these clogged pores and triggers inflammation, causing red and pus-filled pimples. Prescription oral and topical medications may treat the bacteria and help exfoliate the skin but not the cause of acne, namely the sebum. These medications will not provide lasting improvement. Your acne will return if you stop treatment or don't use it every day.
AviClear is the future of acne treatment. Aviclear is the only laser treatment that delivers long lasting results for all severities of acne and all skin types. AviClear is the first and only FDA cleared energy device for the treatment of mild, moderate, and severe acne. Treatments with AviClear are fast with lasting clearance. Dr. Krachman's protocol consists of three 30-minute sessions, no downtime, and no need for adjunctive therapy. AviClear is extremely safe as it is drug free, non-toxic and does not have harmful side effects. 87% patents saw at least half of their acne clear in the first six months after completing the treatment protocol in studies.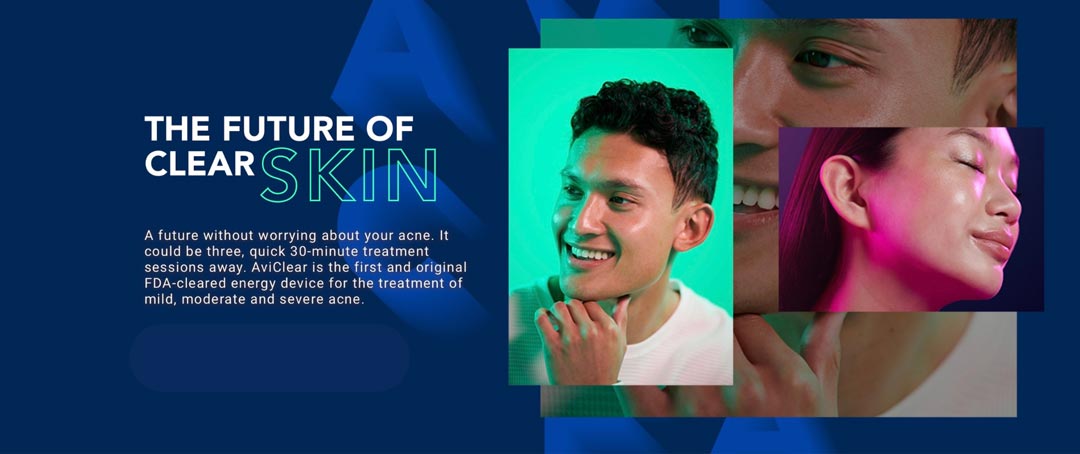 You may be an ideal AviClear patient if you are adolescent or older, suffering from mild, moderate, or severe acne, or searching for a safe and effective, drug free alternative to traditional acne treatments. If you want your acne treatment to be completed in a few months instead of lasting many years, AviClear is for you. AviClear is safe to use for all severities of acne and all skin types.
Dr. Krachman will perform a skin assessment to determine your eligibility. Our wide range of lasers and medical services allow us to find the right acne treatment for you.
What does the treatment feel like?
Designed with patient comfort in mind, AviClear is enhanced with AviClear contact cooling for an optimal and safe treatment experience. Patients described the discomfort as manageable– it feels like a snapping rubber band with heat, similar to laser hair removal treatments. Although we are unable to provide topical numbing, we do offer Pro-Nox nitrous gas for patients who are anxious or have a low "pain" threshold.
What should I expect after treatment?
After the AviClear treatment, you may experience mild redness and swelling from one hour to up to two days. Acne flare ups may occur but are temporary and will resolve in time. We recommend applying an SPF 50+ sunblock daily during your treatment series.
You should start seeing results around three to four weeks after your first treatment session. Results will continue to improve with time and laser sessions.
See the results…
The difference is clear…..