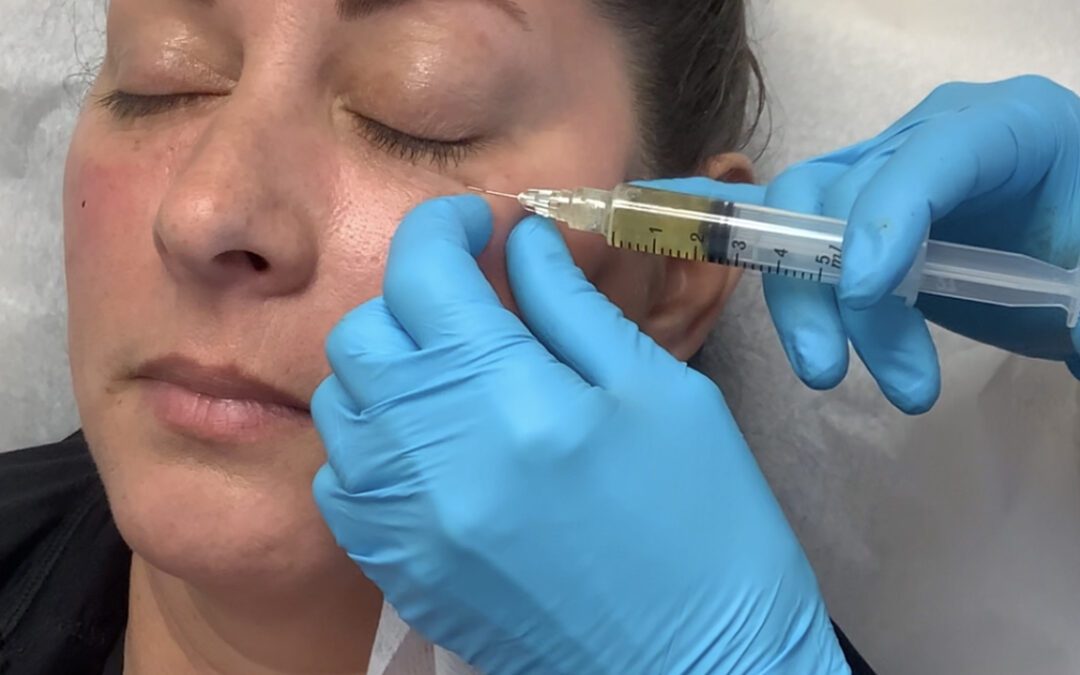 What is PRF Platelet Rich Fibrin?
PRF Platelet Rich Fibrin is a blood product that contains platelets and fibrin. It's created by taking your own blood, separating the plasma from the red and white blood cells. We then concentrate and spin down (centrifuging) the remaining plasma to create PRF Platelet Rich Fibrin. This specific platelet mixture helps build and anti-age tissue, as fibrin is known to stimulate stem cells which improve collagen and elastin in the skin.  This process results in skin that's healthier, firmer, tighter, and more youthful-looking.
PRF Platelet Rich Fibrin has been used in medicine for decades as an aid in wound healing and tissue regeneration. It can also be used topically on skin to help improve elasticity, reduce fine lines around eyes or lips, fade acne scars or stretch marks caused by pregnancy/weight gain/loss etc.  Other uses include the treatment of rosacea flare ups by reducing inflammation & redness while increasing collagen production beneath damaged tissue layers causing breakouts – resulting in clearer skin overall!
What are the Anti-Aging Benefits of PRF Platelet Rich Fibrin for Under Eye Rejuvenation?
PRF is an all natural way to improve under eye pigmentation and tone, it also enhances skin firmness, texture and thickness to improve wrinkles, volume loss and dark circles. PRF platelet rich fibrin is an injectable that contains your own blood plasma that has been concentrated into a gel-like substance. The PRF is injected into the under eye and "tear trough" using a blunt-tipped cannula. This needleless approach allows precise delivery of the product and greatly diminishes bruising. Over time PRF will stimulate collagen and elastin under the eye to help fill in hollows and wrinkles due to aging or sun damage. PRF releases growth factors, which stimulate skin tissue repair and regeneration, as well as new collagen and elastin production = anti-aging.
How is PRF Platelet Rich Fibrin Used for Under Eye Rejuvenation?
PRF Platelet Rich Fibrin is an injectable material that has been used for years to treat a variety of conditions, including eye rejuvenation. The process involves injecting the PRF Platelet Rich Fibrin into the skin around your eyes, where it stimulates collagen production and helps reduce wrinkles.
The recovery time will vary depending on how many areas are treated at once and how much product is used in each area. Most patients experience some redness or swelling after treatment, but this usually subsides within 24-72 hours. You may also notice some bruising around your eyes after treatment; however, this should go away within a few days as well if you do not apply makeup on top of it (which we recommend avoiding until all signs of bruising have disappeared).
How long do PRF results last?
Results typically last one to three weeks and the volume will essentially dissipate. Long-term effects, such as skin tightening, collagen production and enhanced skin quality, may take up to three to four months to be noticed.
Are There Alternatives to PRF Platelet Rich Fibrin?
If you're looking for an alternative to PRF Platelet Rich Fibrin, there are several options. Botox injections are a popular choice among those who want to reduce the appearance of wrinkles. Dermal fillers like Restylane and Juvederm can also be used to treat under eye hollows. Laser treatments such as Microneedling RF-Vivace can help smooth out deeper wrinkles in this area as well as reduce pigmentation from sun damage or acne scarring.
What is the Recovery Time After PRF Platelet Rich Fibrin?
The recovery time after PRF Platelet Rich Fibrin is generally rapid.  Patients may experience some redness and swelling at the injection sites, which can last for up to one week.
Patients should avoid strenuous exercise for 24 hours after the procedure, as this could increase bleeding risk and prolong recovery time.
Follow-up appointments are recommended every 4 weeks for 3 sessions following treatment, then yearly thereafter for maintence treatments.
Are the Results of PRF Platelet Rich Fibrin Permanent?
The results of PRF Platelet Rich Fibrin are permanent! However, we recommend 3 sessions, 4 weeks apart then yearly to maintain the best results.
There are some lifestyle changes that can help you maintain your youthful appearance.
Avoid smoking and excessive drinking, exercise regularly, and eat a healthy diet.
The Basics:
PRF Platelet Rich Fibrin is a medical treatment that uses your own blood to rejuvenate the skin by releasing anti-aging growth factors. It has been shown to reduce fine lines and wrinkles, promote collagen production, and improve elasticity in the skin.
PRF Platelet Rich Fibrin is an effective anti-aging treatment for under eye rejuvenation because it can help reduce dark circles and puffiness under the eyes. The procedure involves taking a small amount of your own blood (platelets) out of one arm with a needle, mixing it with your fibrin glue to create a platelet rich fibrin matrix that is then injected into areas where you want to improve the appearance of your skin.
Why choose Dermalogic Laser Center?
Board-certified physician Dr. Amy Krachman founded Dermalogic Laser Center to offer patients a comprehensive facial rejuvenation experience combining the most advanced laser devices, injectables and medical grade skincare. Our boutique aesthetic center is like a family, and we take care of each patient like they are one of our own. Dermalogic exudes a positive, friendly, relaxing atmosphere the minute you walk through the door, and it is carried throughout your entire experience with us. Our aim is to safely provide the natural outcomes you want and to give you an exceptional patient experience. The comprehensive nature and synergy of our team provides our patients with unparalleled results.
Want to learn more about PRF under eye rejuvenation? 
Call the office at 6095610033 to schedule a consultation today. OR click this link to our patient consultation form.
Dermalogic Laser Center, 777 S. White Horse Pike, Suite D1, Hammonton, NJ 08037